Peonies are beloved of most gardeners, even if we don't have the space to do justice to these blowsy ladies of the spring that thrill us with their gorgeous flowers before succumbing to a sudden shower or gust of wind and landing flat on their faces.
Peony supports were the among the first products that we offered and are still a firm favourite with our clients.  I am frequently asked 'which support should I use for my peonies'? …. the answer depends on the variety. I hope I can give you some general guidelines to help you make your choice. I have always bought my display peonies from Kelways and they have kindly supplied me with a number of photographs of different varieties that will illustrate what I am saying.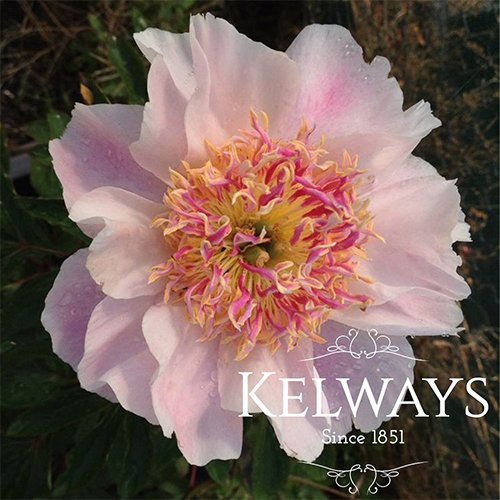 Last week I was at RHS Wisley which was full of life and colour in the autumn sunshine – I loved the display of pumpkins, squashes, crab apples and other fruit that greeted visitors at the main entrance.
While I was there, I took the opportunity to visit the Equinox beds where our supports are used on both peonies and asters which are now mature clumps.
I took photographs of two of the varieties in the Equinox beds, Paeonia lactiflora 'Sarah Bernhardt' and Paeonia lactiflora 'Emperor of India' both of which are now mature clumps. Although the foliage is dying back for the winter, the supports still provide architectural interest and mark where the crown of the plant is throughout the dormant season.
'Sarah Bernhardt', a much-loved apple-blossom pink variety, is one of the taller and heavier peonies. At Wisley it's grown through a tall grid which provides protection for both stems and flower heads. 'Emperor of India' is another tall peony that benefits from good support; here it shown in a tall fat peony support.
How to plant your peonies
Peonies thrive in rich but well-drained soil; most prefer full sun but some, like 'White Wings', are happy in semi-shade. Now is the ideal time to plant peonies, whether bare-rooted or pot grown.
Dig a generous hole and add plenty of well-rotted manure or compost

If the soil tends to be wet, add a good handful of grit to the bottom of the hole

Place the peony plant in the hole ensuring that the crown of the peony is at the top of the hole – peonies hate to be buried deeply or to be mulched

Firm the soil round the peony, water moderately (don't soak the plant) and pop the appropriate sized support over it. A support will prevent damage to the crown (those red buds sit above ground all winter) and remind you not to mulch within the support

Peonies don't like to be disturbed, although they can be divided in the autumn and will give you years of pleasure
By next month we should be well into getting the garden ready for winter. I am not a gardener who worries too much about being tidy – I like to leave seedheads and some windfalls for the birds and some of the herbaceous top growth for shelter but there's still plenty to do and some serious thinking about what worked and what didn't so that I can make changes for next season.